Jockey Club Age-friendly City International Conference cum City Partnership Scheme Award Presentation Ceremony - Register Now
7 June 2021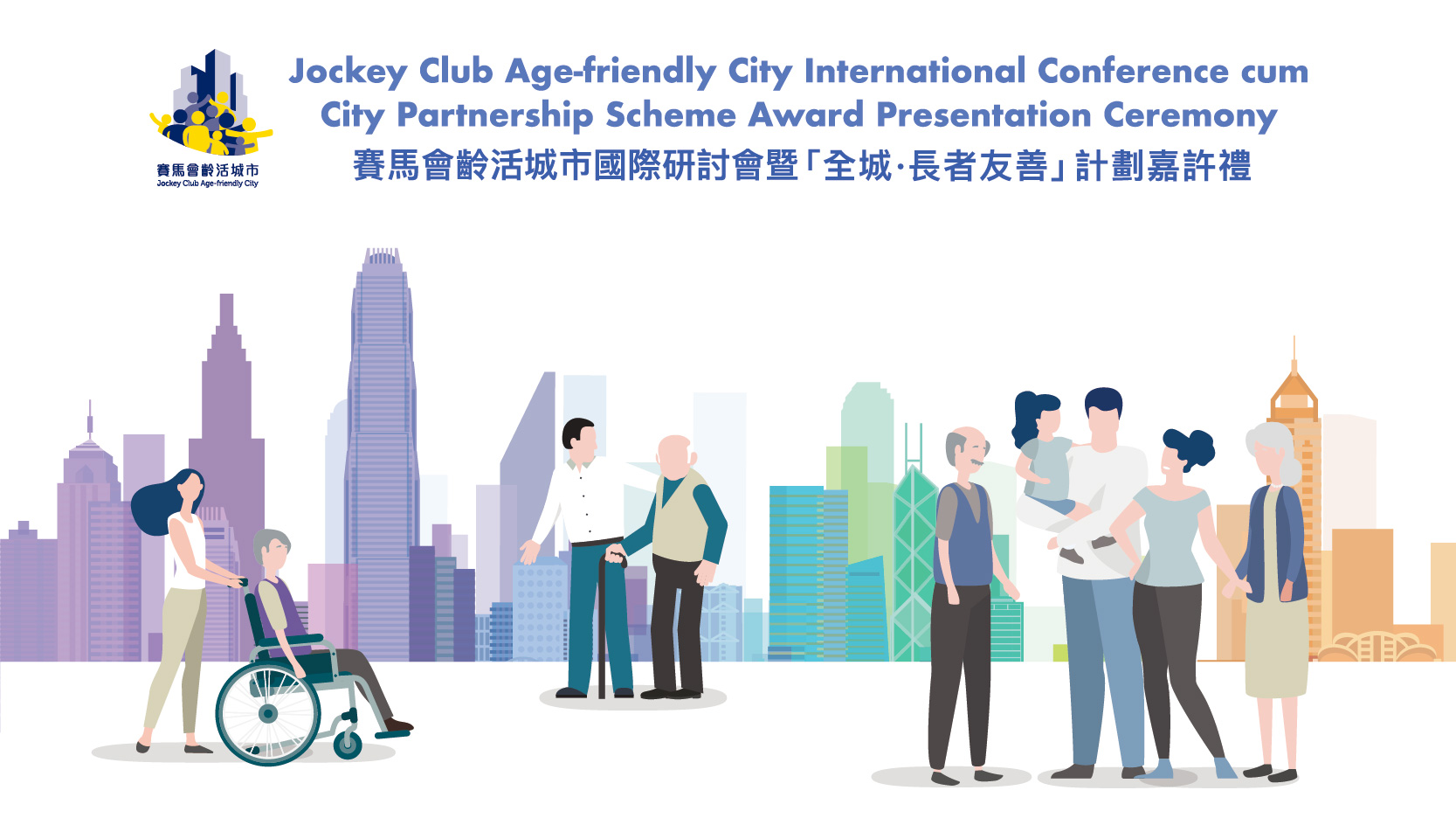 The Jockey Club Age-friendly City International Conference cum City Partnership Scheme Award Presentation Ceremony will be held on 7 June 2021. Under the theme of "Age-friendly Cities 15 Years On: Origins and Best Practices Worldwide and in Hong Kong", the event consists of a series of plenary and thematic sessions, thematic forum and exhibition. It brings together government, business sector, academia, non-profit sector, social enterprises and beyond from Hong Kong and overseas to facilitate knowledge exchange and sharing of best practices on building an age-friendly city locally and worldwide, as well as to create a network and platform for future collaboration and sustainable development.
The award presentation ceremony of the Jockey Club Age-friendly City Partnership Scheme 2020 will also be held on the same day to recognise outstanding age-friendly practices in Hong Kong. Winners of the seven special awards, namely Age-friendly Employer Award, Age-friendly Facilities Award, Age-friendly Innovation Award, Age-friendly Collaborator Award, Age-friendly Business Award, Our City's Story Award and "My Favourite City Partnership Scheme" Award, will be awarded.
Following the ceremony is a thematic forum titled "Innovative Age‐friendly Practices under the New Normal". Panellists include Dr. Rex Auyeung, Mr. Bernard Chan, Mr Leong Cheung, Dr. Lam Ching-choi, and Mr. Robert Wong. You are welcomed to join the event to get inspired, explore, learn and get connected with different stakeholders in building an age-friendly city. Seats are limited, register now!
Date: 7 June 2021 (Monday)
Time: 09:30 - 17:30
Venue: S221-S230, Hong Kong Convention and Exhibition Centre (HKCEC)
Language: English (Supplemented with simultaneous interpretation in Cantonese)
Mode: Hybrid mode (with physical event to be held at HKCEC for local speakers and participants, and online participation for overseas speakers and participants)
Details and registration, please click here.